My great-great-grandparents Conrad Cornelius and Magdalene Dietzel were born during the first decade of the 19th Century in or near Eisenach, Germany, where they married in 1837 and raised their children.
Cornelius-Dietzel and Suchsland-Cornelius Family Genealogies
The four children of Conrad Cornelius and Magdalene Dietzel migrated from Unterellen, Germany to Jackson County, Iowa separately. John Cornelius was the youngest and the first to leave Germany, in 1867, accompanied by cousin, Wilhelm Suchsland, and an unrelated local family of their acquaintance named Radloff. John's siblings each married and started their families in Germany, emigrating in 1868 (Elizabeth), 1876 (Conrad), and 1883 (Margaret). They all initially settled in Jackson County, Iowa. Wilhelm Suchsland removed to Smith County, Kansas in the 1870's.
The Fatherland
The family of Conrad Cornelius, Sr. and Magdalene Cornelius née Dietzel lived in mountainous east-central Germany in the small town of Unterellen, near Eisenach and its imposing feudal castle known as The Wartburg, famous for being the site where Martin Luther translated the Bible from Hebrew and Greek into German.
Eisenach in their lifetime was a village of about 16,000 people, 1/3 of its present-day population. A surge of urban growth began at about the same time as their children came of age, yet family circumstances were to lead these children out of Germany to America.
Dreaming of a Promised Land
Cornelius Family History Book and other sources
This book with an 18-word title was essentially the "previous version" of most of the present website's contents (although it is never explicitly cited as a "source"). The site has hundreds of independently cited source records. Only a very few of them can be conveniently represented by an image.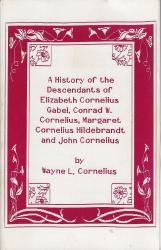 1991 Gabel-Cornelius- Hildebrandt Family Histories